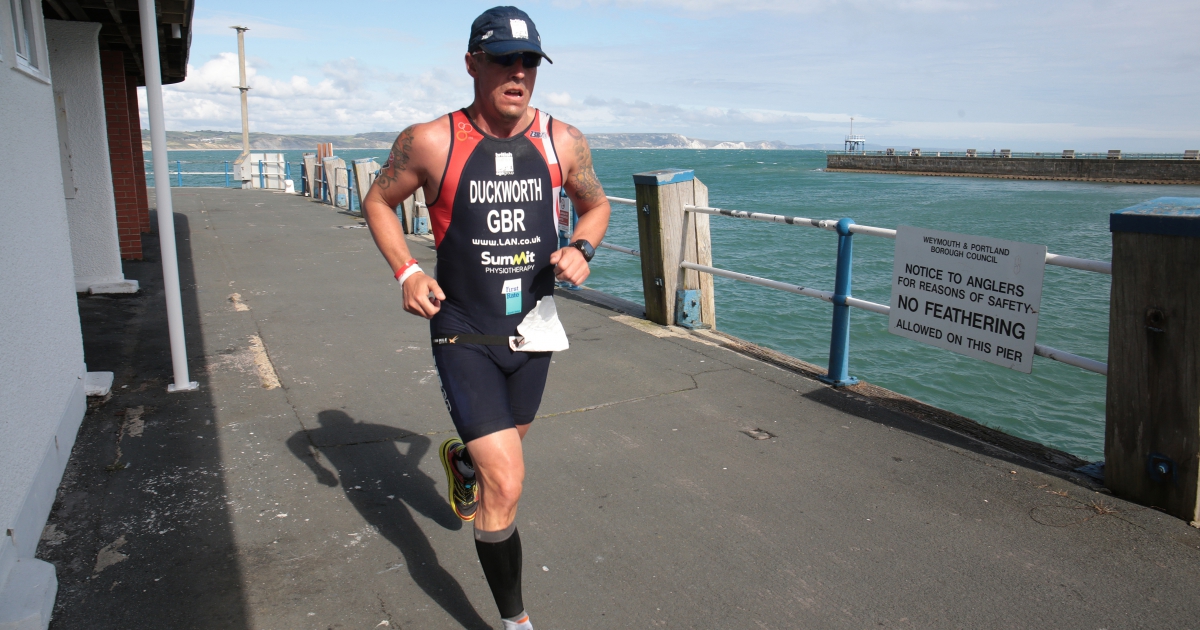 ETU European Championships More Than I Expected
"Let me tell you something about racing in the GB Kit"
Tim Whitmarsh the GB Long course team manager is giving a rousing speech to his selected troops for the ETU European Championship at Challenge Weymouth, and here I am listening intently as he gets us all into the mood.
"It will make you race just that little bit harder, you will run a little bit taller, you will push your chest out a little more than usual, but it will mess up your running technique as you stick out those elbows a little bit further as you pass our European friends" It was a really motivating speech, not that I needed motivating as this was my main race of the 2015 season.
Since the Ultimate Half win things had gone great, loads of consistent training and a really good race at the Rubicon 70.3 with a 13th overall and 2nd in the V40 cat, this in an extremely talented field. How was this one gonna pan out, Read on.
Race day promised all sorts of weather according to the forecast, but they eventually settled on moderate winds and rain moving in by 2 in the afternoon, so why, at 6am, am I sat in the back of the car with Adam and Chris seeing torrential downpours!! no bother its the same for everyone.
On the up side the sea at the start looked quite nice, steady waves, nice and blue and warm at 16 degrees. I was on the start line at 07:05, 5 minutes after a small pro field, and to be honest I couldn't wait to get going. It was a cool and relaxed start gate for me, stood on the carpet, at the end of the line, in line with the first buoy. Perfect!!
The start horn goes and I took my first steps as a GB Triathlete. First step literally I yelp as I stood on something really sharp. My first thoughts were simple, I hope I'm not bleeding and I hope there are no sharks, blood and my swim speed will make me fair game!! There was my first reason to swim a little harder!! Apart from that the first lap was great, I never got touched, sighting went really well and I even got on a couple of feet. At the Aussi Exit I had swam 33 minutes which I was really pleased with. Then things really changed. Whether it was running too fast I'm not sure, but as I dived back in for the second lap, I couldn't get to grips with the sea. I couldn't sight, my stroke rate was all over the place and the whole experience was a lot more difficult. According to the guys the sea was whipping up during the first lap as the wind picked up. So, getting out I was expecting to see a terrible time. Thankfully it wasn't as bad as I feared at 1:12. On my way to T1 I saw all the crew, 6 in total, all awesome, giving it loads!!
So to the bike. Weymouth is billed as a fast course where PB times are a real possibility. If you race there you will doubt this fact for the first 20 miles of the loop, because all you seem to be doing is climbing, not like the Ironman UK or Wales courses, but climbing all the same. But after that it is a great course and really fast with loads of riding on the aero's. That's not to say its easy but if you can push a descent gear this is the course for you.
My plan was to push hard on the bike but not to break myself, if I got passed, accept the fact and stick to the wattage. I was aiming for a normalized power of 235/240 watts. This was a realistic goal according to the figures in training and 20 watts more than I had ridden at Lanza earlier in the season proving the power meter rules and I am getting stronger on the bike, even so a couple of speed machines passed me, Karl Alexander and Steve Berry. Steve was a guy I had looked up a little bit after his result at the race in 2014 when he had finished 11th. As he passed, my thoughts were keep the gap down to 10 minutes and go after him on the run. Simple in theory, however the reality was a lot different. So fueling every 20 minutes and a good hydration plan brought me to the half way point in 2:35. Bang on!! Lap two started great, I saw the lads and lassies within 5 minutes of the turnaround then immediately after my three girls, the best support crew in Weymouth. Lap 2 was pretty uneventful as far as laps go except for one thing, I was passing a lot of athletes and my power wasn't decreasing, something I was really pleased with. Back into town and job done, legs felt great NP was 236 watts and the time was 5:13, so the second lap even with an increasing wind was only 3 minutes slower than the first, like I said the power meter rules!!
Now, nothing funny has really happened yet, all a bit serious you may be thinking. As I enter T2 I grab my bag in race mode and leg it into the tent to get the trainers on, problem was WRONG TENT, I got a right eye full and an even bigger earful, 'Sorry, Sorry, Sorry wrong tent' I think that was the fasted part of my run!! So with a lot of laughs I entered the correct tent and got on my merry way. I say merry because the legs felt great. No surprise really considering some of the sessions Ian has put me through recently. First people I saw was the 9 JD Support crew members, handy I thought as I threw my T2 drink and grab bag at them.
Pan Flat!! That is the best way to describe the run course at Weymouth, but do not be fooled. Consider where you are and the conditions. On the sea front and blowing an absolute hoolie!! I hit the sea front and got my first bit of information about the race from my crew. According to them I was second in the owd farts cat, 7 minutes down from that man Steve Berry. Bike bit DONE, I had kept it to the required 10 minutes. The job now was not to get too excited and try and run my way into first within 10k, and equally do not get passed, 3 hours is a long time to make up 7 minutes, so no rush, having said that I was running at 7 minute mile pace and feeling comfortable. On the way back I got more intel from the crew, 2 minutes back. So without a mishap the catch was going to happen within the first 10k and so it did. For the rest of the run I hooked up with the Welsh National 12 hour TT champ, the guy covered 271 miles!! but the highlight was catching Stephen Bayliss (he was a lap in front) and having him ask me if I minded him catching a draft from the wind. Of course I said no. I have to say at this point what a top bloke. He was having a really tough day and was looking at finishing about 8th overall, guess what that would pocket him, 400 Euros. In my humble opinion ridiculous!! It's about time the full time guys who put themselves through this in order to earn a living are paid accordingly!!
So I eventually left Stephen when he stopped for drinks. Then it all got a bit dark, miles 17-22 were tough, really tough, the pace dropped off a bit and the stomach was playing up. This is where the crew came into their own. Adam asked how I was and I told him, "suffering", Adams reply, "it's only pain mate" I'll not write the reply!! What they did next was brilliant. I turned for the last time and within 5 minutes saw Andy and Charlene, another few minutes, Joe and Chris and Adam, eating pies that actually smelled like a really bad fart, so much so that I asked them as I passed!! few more minutes then the girls popped up and finally Dave. This may not seem like much as you read this, but to have people spread out on the course instead of all in one spot was great, couple this with the guys turning up at three different parts of the bike course and you get a picture for the amount of thought and effort that they put into the day.
So the last three miles were pretty straight forward, don't get passed and I'll do what I set out to do at the beginning of the season. The last turn was the only wind assisted part of the run and lasted the 200m to the finish-line, where I was greeted by Tim Whitmarsh to collect my compulsory Union Flag, but more importantly Anna and Lucy to share the finish with, something they have never done before.
The facts
Swim 1:12
Bike 5:13
Run 3:10
13th overall
7th Age Grouper
1st 45/49 Category and the ETU European Champion 2015
So many people to thank. Ian Murphy. Top coach and a great friend who looks after my training and makes me do things I never thought possible. Can't wait to see what is next. The Crew. Adam Critchley, Chris Heyes, Joe Elding, Dave Hindle, Andy Turner and Charlene Riley. Guys you were awesome all day, I feel really blessed to have such good friends and to share a really special day with you all, I didn't win the Euros, WE DID!! with the training and the support on the day. Not just that, you looked after the most important people in the world for me, my world, Joey, Anna and Lucy. I can't wait to repay you all at some point. The drinks and the meal after made it a perfect day, and as we all know they don't come along to often in the crazy world of long course triathlon. The girls as always were amazing and I promise we will go somewhere nice next year that doesn't involve a race!!
Lee and Carol Spoor, two of the nicest people you will ever meet and really dedicated triathletes to boot. Lee Had a great race for GB and encouraged me every time our paths crossed, I tried to reciprocate but I feel it was more of s grunt, if so, I'm sorry mate I was trying!! and Carol thanks for all the support on the run course x
Lantec, Summit Physio and First rate Credit union for their continued support, and who made a lot of the performances possible this year due to the equipment they supplied me. Finally Graham Bilsborough from GB3 Limited, who has agreed so sponsor me next season. All I can promise you Graham is I will put even more into next season to hopefully push on from this one.
And that's me for another season. Rest time is already upon me, but I will be watching the Worlds in Kona wishing I was there again, cheering on Foggy, and the guys from last year who have qualified again, I will be back next year I promise. Hope you have enjoyed the blogs, had a great season and have a great off season doing whatever you choose to do.
Take it easy
Joe D